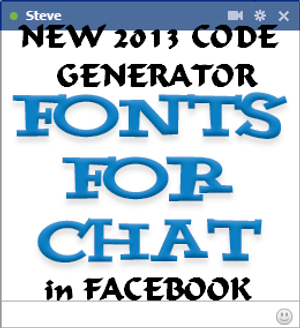 New Facebook Chat 2013 Code Generator [Upadated with New Codes]
The biggest Social Media Network, Facebook. Previously I have shared few Tricks for Facebook. Hope you have enjoyed all I have shared about Facebook tricks. But today I am going to share another trick with my friend because everyday people wants something new and we all have to find something new for our visitors. So today I have decided to share New Facebook Chat Codes Generator with you. This code generator will generate such codes instead of you text. You just have to paste those codes in you Facebook chat.
Facebook Chat Code Generator.
Here I am sharing two links for Facebook chat codes in where you can generate two different types of Text Codes for Facebook chat. 
 How to Generate Chat Code for Facebook
Simply go to above mentioned links.
Then Type desired word.
And copy generated code as per image shown below
And paste it in Facebook Chat Box..
You will find a new image Fonts instead of your chat text..