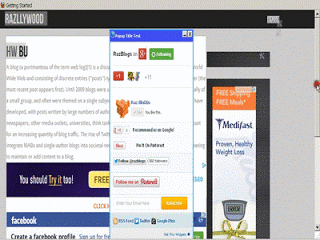 New Popup JQuery Mashable Style Social Bookmarking Blogger Widget
Hope you all likes my entire posts which I have share before and you don't have to wait because every time I am trying collect new and useful tips and tricks for my visitors, today after bundle of working with the help of Mr. Nitin Maheta .I have made a New Mashable JQuery Popup Widget Generator, before I have also shared two different types of
Mashable Social Media Following Version 1
and
Version 2
, but after that I have visited a brilliant blog. where I have converted same Mashable Social Media Sharing and Following widget for use it into Popup. The role of social media for niche I have already discussed that how can we get great benefits from Social Media Websites.
CHECK LIVE DEMO HERE
Check This
How to Install Popup JQuery Mashable Social Bookmarking Widget
Now here I will tell you how you can install this widget into your blogger/blogspot blog.
For this widget you must have to install JQuery inside your blogger. Here below is instructions How to Install JQuery Script into Blogger.
Go to Blogger DashBoard >> Template > EDIT HTML > Format Template >
Now search </head> tag  and paste the following code before the </head> tag
 <script type="text/javascript" src="http://ajax.googleapis.com/ajax/libs/jquery/1.8.2/jquery.js"></script> 
If you have already installed JQuery then leave this step just fill the following Widget Generator with your ids and links then Click on Generate and Add to Blogger Button.
Now setup you HTML/JavaScript Gadget wherever you want on the layout of Blogger Template.
Save you Template checks your blogger homepage.
Another recommendations
For further inquiry please contact me or you may ask anything by replying in this post also don't forget to follow and like my social media pages and groups and ids for stay connected with us.