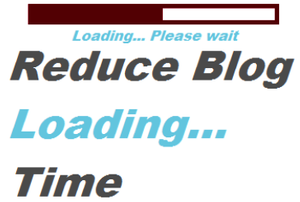 9 Tips To Reduce Blog Loading time
Today I am gonna discuss with you a most essential SEO factor which surely can help you to increase blog  ranking and boost blog traffic. Blog load time is most important SEO factor and every bloggers and webmasters should care their blog's loading time and most of always try to reduce it. Because readers don't like those sites which take too much time to load and than finally readers go to another website for searching the information. If your blog load faster than obviously many major search engine consider your blog as a good ranking especially Google. Reduce blog load time better helps for search engine and also your visitors/readers.
How to Optimize and Speedup Your WordPress Blog or Website
9 Tips To Reduce Blog Loading time
Below are some most important tips about how to reduce blog or wordpress loading time. Which you should consider and use it for better ranking.
How To Check Blog Or Website Loading Speed?
I have some best tool which you can check blog time speed and can improve performance.
Go to PageSpeed Insights and check blog load time.
1. Don't Use Unnecessary JavaScript Coding:
Avoid using unnecessary JavaScript coding in blog it makes page load time slow Because it is so much heavy coding and can effect blog load time by a great margin. Most of newbie bloggers and webmasters use unnecessary widgets in their blog sidebar which is really harmful.
2. Choose Your Blog Template Wisely:
Select a clean and SEO friendly theme it is an amazing choice for blog. Before choosing a blog theme make sure that JavaScript usage not too much and don't choose such type of blog theme which is already over designed.
3. Minimum Number Of Post On Blog Home Page:
Don't show too much posts on blog homepage because it may possibility effect and helps to raise loading time. Always try to show 5 to 8 posts on homepage for better SEO ranking. If your website load faster than definitely readers will stay and glad. So avoid to show too much posts.
4. Avoid Too Much Optimize Images In A Single Post:
Relevant images in a single post is obviously play vital role for improve SEO ranking. But make sure 3 to 4 images is enough in a single post. Avoid too much use images per post because every image has use separate memory capacity.

Add Auto Image ALT Tag Generator for Blogspot Blogger
5. Use Resize Images:
Don't forget to resize blog images with any resize image editor. Always Use JPG images because JPG images uses less size memory as compare to other images formats. To resize images use Photoscap or Photoshop.
6. Avoid To Display Too Many Ads On Blog:
I have seen most of newbie bloggers join many CPC networks program and implement all ads inside their blog which ads banner coded with JavaScript which full of use heavy size memory and can slow blog loading speed which is bad impact for SEO ranking. So please don't use to many ads.
7. Avoid To Display Popup Ads:
There are dozens of blog sites which are exists in Google search engine who are display popup ads in their blog to increase earning. But as I recommended, It is a bad way to increase revenue. I have seen many time that such blogs or websites are not loaded, But it is hang by popup advertising campaign. So totally avoid to display it.
8. Avoid To Use Unnecessary External Links:
In case you are using stats counters widget to check blog traffic and also use website welcome widget in blog site. You may use Google analytic tools instead of stats counters widget and you have to remove unnecessary website welcome widget into blog.
9. Avoid to Using Unnecessary Social Media Buttons:
Social media buttons is most important which helps blog to increase traffic. Social media sites also help us to connect with world. But you may remove unnecessary social media buttons.
Final Words:
Now you can apply 9 tips to improve your blog ranking and also improve blog loading speed. Please write comments below with feedback.