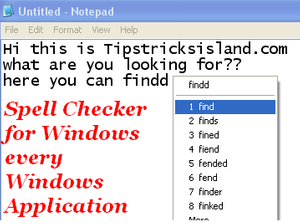 Spell Checker for Every Windows Application
This is the thing I was need, finally I got and going to share with you. A free application checking spelling for every windows app. After working on Microsoft office i.e. word excel whenever we mistake or mistype any word its suggest us the proper word by highlighting but what if we working in NotePad, WordPad, Internet Browser, Mozilla, While Saving Any file, During Chatting,  or any other windows based application? So here is the solution for other windows application. Today I am gonna share an free software for detecting mistype and check your written word and suggest you proper word in every windows application.
You Like to Read This :- 
Speedup Your Computer Harddisk
How to Check Spelling of Mistype Words in Notepad WordPad and Other Applications?
Allow me to introduce that mistype detector for spell checking in every windows application. This is the TinnySpell by Numerit.

Read :- Tracing Techniques Calligraphy (Corel Draw Tutorial)
TinnySpell
This is the program I was talking about. A great and very useful tool for drafting. Because everywhere you mistake in typing or misspell it will suggest you proper spelling. After installation always it will be working in background, while typing if you misspell or mistype you will hear a small beep and word suggestion right above the misspelled word. I have downloaded complete free having the features of misspelled detection also its come with pro version and having more functions but if cant afford you can easily download free version of this useful application from its official site.