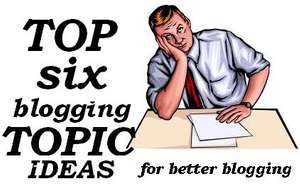 Top Six Blogging Topic Ideas for You
When people consider the idea of blogging, they generally hope to get a ton of traffic through Google and other search engines. They believe that other people will read their post, like it and improve their credibility in the eyes of Google. In reality, you are not going to get much traffic if your blog is new or your blog posts are not interesting enough for the audience. To ensure that you receive good amount of search engine traffic, not only do you need to be regular with your blogging efforts but you also need to write posts on interesting and informative topics.
 Related Post:-
Top Six Blogging Topic Ideas for You
Although it's a good idea to choose an industry-specific topic, you can still find some topic ideas that will work irrespective of your specific industry. For instance: 
You can write your blog post to define a particular product, term or anything related to your industry. These types of posts often work because everyone related to your industry would want to know more about it. For instance, if you sell shoes, you may want to define/explain what neutral shoes stand for. 
You can also write 'how to' posts, as they never go out of fashion. It's generally because of their highly informative nature. A good example is that you can write an article about "how to pick a perfect pair of shoes that would offer extra cushioning for sprinters". 
You can write about top people related to your industry. If you take the same example of a shoemaking industry, you can talk about different designers who have made shoes popular, or you can delve deeper into the details about people who played a role in the evolution of shoes. 
People want to know more about what celebrities and top people in your industry think about different products, so interviewing a top influencer will definitely be a great blogging idea to attract more readers. In the previous example, we have talked about writing a blog post about top people, but here it's more about interviewing those people and mention their viewpoints in your post. There is a huge difference between the two ideas and you should use them sensibly. 
It is also a good idea to let people know how they can start or grow a particular business. You can use this idea not only to explain your business model and use your target key phrase for SEO purpose, but also to keep people interested. You can divide these types of posts in parts, and make people wait a bit before they could read the next part. This increases their interest and they keep coming back to read more, so they could get some info to improve their own business as well. Do keep in mind that you need to be crafty when using this topic idea. 
In addition to writing posts about growing a particular business, you can also explain how people can actually grow as a professional. Again, there is a difference between the two, and you need to identify it properly to be able to write convincingly. 
These are some of the most popular blogging topic ideas, but if you're interested in finding some more, you may consider making use of Google keyword tools – this will help you find what people are searching for and then you can write an informative post using those keywords to grab people's as well as Google's attention.
The fact of the matter is that you can make your blogging efforts pay dividends only if you keep them diverse and write about topics that will attract more readers. The good thing about these blogging ideas is that you can simply change the original idea a bit and have a variation to write about – it's the same in case you write about "how to set up a business" and "how to grow as a professional". So, always take some time, know your niche well and then pick the most suitable blogging ideas to make Google send valuable traffic to your website.