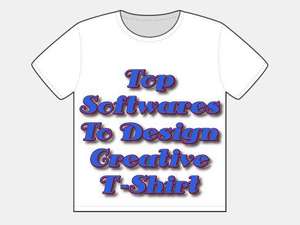 Top Softwares to Design Creative T-Shirt by Own & Explore Artwork
At present, T-shirt design is not an imperative task, there are the wide range of the most advanced technology based softwares available in the market. These softwares allow you to explore your creativity effortlessly. Due to the rising demand of custom t-shirt design, online product designer tools are very popular these days. Various amazing features and functionalities enable us to showcase own artwork. You can easily edit, delete, add text, number, logo, image in designing, even you can choose layers to use different colors over it. We have selected top softwares that provide high-quality designing facility.
CorelDraw Graphics Suite
If you are accustom or having deep knowledge about CorelDraw, then you can prefer this software for designing T-shirt. It is a vector graphics application, which lets you design on almost products including T-shirts. This software has a wealth of clip-arts, fonts, colors, and many more choices, by which you can create your own design. However, beginners may feel tough, while using this program and the interesting thing is that it is free to download and use
Adobe Illustrator
Adobe Illustrator is one of the widely used prime vector graphics program, which has numerous features, fonts, effect options and shapes that you can use in designing t-shirts. However, it is hard to use for the beginners, but easy for a professional.
Online T-Shirt Design Software
Online t-shirt design software provides a wide range of features including fonts, shapes, layers, colors, effects, and pre-loaded themes. This amazing software can be integrated easily with any shopping cart, like Magento, OsCommerce, VirtuMart, Ubercart, X-carts, etc. and CMS such as WordPress, Drupal, Joomla. This program is catered by "No-refresh" with easy to upload images, logo or themes on t-shirt with drag and drop facility. A high-quality of designing with common payment gateways support, cross-device platform compatibility and easy to use amenity is provided to custom t-shirts, sportswear and apparels designing. 
T-Shirt Factory Deluxe
Another software, which allows to create custom design over t-shirts and apparels. This tool can be used for all kinds of t-shirts, whether it is business logo or image t-shirt design. Once the designing of t-shirt is complete, you can take a printout on paper using inkjet printer.   
CraftShirt
CraftShirt is a T-shirt design software, which can help your business get success in short span of time. The basic feature of this tool is the T-shirt designer with web based WYSIWYG editor. Its innumerable features provide facility to choose the color, label, font, and design. With this software, easy to maintain inventory control, tax payment, shipment and accounting. 
Flash T-shirt Design Software
This program offers a comprehensive solution for t-shirt designers with many designing options that facilitate you to choose text, color, clip arts, fonts, which you want. A e-commerce solution is also supported with this tool to manage your business. Common payment gateways support for automatic payment processing, which works really well.
SonicShack T Shirt Designer
With SonicShack T Shirt Designer, creating a custom t-shirt design is much easier, this program is free to use and showcase your own artwork in a creative manner. Anyone can choose any item from this t-shirt design software application like color, text, and art. The modification of text, color, fonts are very easy to implement for beginners as well. You can even use this software for other items, like cap, apparel, etc.
GraffixPro Studio
With the features, like various fonts, colors, templates and image library, GraffixPro Studio Software is another comprehensive solution provider t-shirt design software apps, available in the market. Text, image and color adjustment makes easy your task of designing. This software is available in two versions: one for free trial, which is for limited time only and other fully featured is paid.
Author Bio:
Steven Bowen is a 5+ years experienced professional blog writer of online product designer tool provider - No-refresh, which ensures to meet your specific requirements of custom design. He has catered many blogs related to the customized and personalized i-Pad compatible online product design software apps that help extend your business.