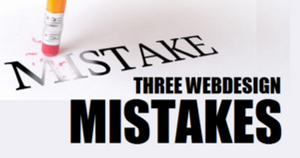 3 Web Design Mistakes Small Business Owners Make
It's been the online hub of business for decades, but there are some crucial mistakes small business owners make while preparing websites. Here are the top three most common and easily solvable mistakes made by small businesses when developing a website.
1. Content is unorganized
Content is key to everything. It's what pulls people in to visit the website and it's what keeps them coming back for more each time. The Search Engine Optimization or SEO has been buzzwords for years now and most small businesses tend to focus on those in particular. But many owners simply forget to organize the material properly. This goes beyond just making things look nice. Focusing on natural language, keyword integration and simple images is all very important, but if the whole website is cluttered and the articles or sources are hard to find, they won't be of much help. Your intent with a website is to garner online traffic and most of your visitors are used to nice, clean interfaces. Choose to clear the field and make it very easy for people to look up content and even come back to reference it if need be Clean and organized is the way to go and for that you'll have to aim for simplicity.
Recent Publications :-
2. Complicated navigation
Along with a whole host of things left out by small businesses, business owners certainly don't take enough of time looking at the site's navigation. They don't have the resources or the time to get it right, it may seem, which is an absolute pity considering the navigation of a site is one of the most fundamental elements.
Everything online is democratized and this means that the site you put up online will be in direct competition with the big guys. Regardless of how much you invest into the site's construction, you will always need effective navigation to help people find what they are looking for.
People are impatient with websites that do not load up fast enough or ones that are simply not organized properly. If they leave because of poor design, they'll never come back. Make website navigation a primary concern if you are setting out to design a new website.
There are certain principles that are useful when you really want to get the navigation right. Start, firstly, with the icons. Use them to effectively let people navigate around the site and easily move through the content you've spent time and effort on. Make them as visually appealing as possible to grab attention.
They create a logical sequence of icons and links that will lead anyone through the site easily. Try to make all the design as clear and intuitive as possible. Nothing fancy, just very simple and easy to use. All the effort you put into the navigation should allow for the use of a call to action button that will set the visitor and turn them into customers. Have a clear and very large call to action buttons that can be used on the site.
Read:- 10 Best Web Development Tools for Web Designer
3. Color & contrast
Often, the color and contrast on a site is just not done properly. Color combinations that may seem fine to the owner of the business may actually affect the site badly and ruin the results for everyone visiting. Aesthetics are important and you may need a professional designer to get the color combinations done right.
There is another important issue at play here. If the text you've written as part of the seo campaign is not contrasted to the background, the reader won't be able to use the content at all and this is a genuine issue for most new sites that go online.
Creating a visual interest from the visitors could arguably be just as important. The flow and the hierarchy of the page is all very tightly interlinked to the way the design stands out and the color combinations that are used.
A free color contrast tool online can really help you with this and make sure your site meets the high standards expected on the internet now. A good way to get the color scheme right is to look at the way your direct competitors have used colors are mimic that.
Author Bio:

Sunny Popali is an everyday learner and editor, working at Good Monster an SEO agency in Syracuse. He is passionate about helping online businesses to achieve their goals with cost-effective SEO & Digital Marketing services. He believes that you should keep conversion rates in mind.