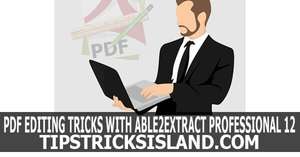 PDF Editing Tricks with Able2Extract Professional 12
When it comes to reliability and security, the PDF format is the perfect file format for viewing and sharing digital documents.
It's probably the most commonly known format worldwide and used by managers, students, teachers, accountants, and basically, anyone dealing with some kind of digital content. The main reason why it's so popular is the fact that with PDF documents you don't have to worry about your data being altered.
But sometimes being the most secure format worldwide can be seen as a disadvantage. The PDF format simply won't let you change or edit any of its content.
Read: - PDF Recovery – Sharp And Efficient Solution To Repair PDF Files
Pdf Editing Tricks with Able2extract Professional 12
That's why we're introducing you to Able2Extract Professional, a powerful PDF editing solution. With this tool's ability to edit PDF text and pages, you can change your PDF content within seconds.
It doesn't matter if you're an experienced business professional or just a budding freshman, Able2Extract makes the entire editing process simple and easy.
To prove it, we decided to show you 5 handy PDF editing tricks you can try with Able2Extract 12 when you need to edit your PDF documents:
1) Add, remove and redact your PDF content
Since PDF files cannot be edited by default, changing the text within a PDF document is a true lifesaver. Able2Extract 12 has a user-friendly editing panel, so you can make both basic and complicated page alterations.
With its WYSIWYG text editor, all changes are instant and immediately visible. The tool also has a redaction button that can help you protect any sensitive content by permanently blacking out words and numbers.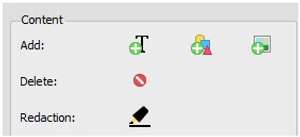 2) Modify PDF Pages
With Able2Extract's PDF Editor, you can make all sorts of page changes and adjustments. With a few clicks, you can delete, move, and rotate any page within your PDF. Each PDF page editing feature is aimed at ensuring your content appears just right. For example, if you want to adjust only the measurements of your content, use the Scale feature to scale the contents of an entire page. On the other hand, with the Resize button, you can resize the page themselves, but the content, along with annotations will remain untouched.
Read:- How to Extract Data and Text from Multiple PDF Files at Once
3) Create And Edit PDF Forms
If you want to edit a PDF form, no need to worry — Able2Extract Professional 12 has you covered. This tool is equipped with a PDF Form Editor, allowing you to make desired changes to interactive and fillable PDF forms. With the simple and intuitive form editor, you can add text fields, insert combo boxes and lists, add radio buttons and much more.
4) Add Bates Numbering
Bates numbering is a neat trick when you want to easily identify and index your PDF pages. Able2Extract's latest feature gives you the opportunity to instantly customize, add and remove bates numbers into your PDF document. You can specify prefixes, suffixes, text and even customize the formatting (font, colour, position). This eliminates the time and effort of going through and searching the entire file looking for a single page.
5) Insert New Pages Into The Existing PDF File
If you wish to enhance your existing content and compliment it with additional content, you can easily insert page from other PDF files or insert new blank pages into your PDF.
After clicking on Insert from the side Editing side panel, you only need to select the desired place in your currently opened file, how many blank pages to insert, and click on the Insert button. Or if you wish to insert pages from a completely different PDF, click on Insert from PDF instead.
Read:- How to convert a WebPage to PDF format With in seconds?
In both cases, you can then add text, adjust pages, add bates numbering, and even add form fields. When you're done, save your edited PDF to confirm your changes.
The Final Word
These are just a few PDF editing tricks to try out with this comprehensive PDF tool. If you'd like to test the software for yourself, download the 7-day trial and try these editing features for free.