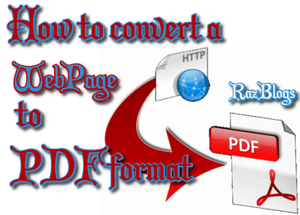 How to convert a WebPage to PDF format With in seconds?
I hope that all of you may have heard about PDF Formats. PDF Means Portable Document Format which is not depend to any applications, software or even Operating System tools. Each PDF Files are enriched with text, images and graphics which can't edited later. Whatever the platform, PDF files can be opened using Adobe Reader or with other alternatives. There will be no changes happen to the file format inside a PDF. PDF Opened on Windows system will be same as that of opened on a Linux Operating System.
There might be variety of instance where the user needs to save a webpage. [For eg: Reading articles, Viewing Google Adsense or other online charts etc]. Usually all of us simply Right-click on the browser and save it on the desired designation. Is this the better way to read the file later? Probably NO. Because if there happens a missing of any file which you have saved, it shows some problems to access. Doing so needs to manage a lots of files. This problem can be easily overcome by saving the webpage to pdf format. Today there are several Online and offline websites proving the opportunity to save your webpage to pdf format. I know several extensions for Google Chrome and Mozilla Firefox loaded with ton of advertisements doing the same function. Is there any need of such third party applications if the browser does the same? Here we shows how to convert a  WebPage to PDF format with in seconds.
Check Similar Post:- How to Speedup Your Computer Without Software
Advantages of PDF Over other file Formats
No missing of related files
Light weight And portable
Platform independent.
Exist as a single File
How to convert a WebPage to PDF format With in seconds?
Convert Webpage to PDF in Google Chrome
Currently Google Chrome and Torch Browser supports this feature. In case of mozilla Firefox, you should need the support of an external plugin or application. In IE also no such feature.
Best Google Chrome Extensions for Better Browsing
Go to the page you want to convert to pdf format.
convert webpage to pdf
Now give the Print comment for that page. In Chrome the Keyboard shortcut is CTRL + P.
On the left hand side, you can see the Printing option.
Under destination, there is an option to change. Click on Change.
Now a Pop up appears to Select the destination
save webpage into pdf format
Now Choose 
Save as PDF option.
Then Click Save.
Now a windows appears and ask you where to save the file. Choose the path and enjoy the PDF.
Read:- How to Avoid Autorun Virus of USB or Pendrive
Convert Webpage to PDF in Mozilla Firefox using plugin
As I mentioned earlier Mozilla have no such inbuilt feature to convert webpage to PDF. So here is the plugin page to download the extension. Some of the features of this extension:
Convert a selection of Bookmarks into a single pdf
Convert a webpage to Pdf
Convert all open tabs into a single pdf
Convert links on Scrapbook to PDF
Convert External source links to PDF
Convert links on bookmark folder to pdf.
Also Read :-Make Mozilla Firefox Respond Faster
If you have any problem about topic webpage to PDF, please feel free to comment here. We will contact you with in 24 hours. if you like this tip, please share it.