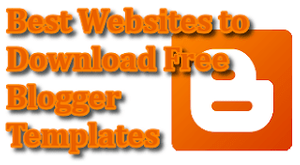 Best Websites to Download Free Blogger Templates
A neat, clean and attractive template is very important for a Blog. For a developed Blog, you will have to provide uptodate contents as well an attractive and responsive template to your Blog. The main beauty of your Blog is depending upon a unique Blog having totally unique and most valuable data. So it's up to you that how you arrange a best template for your Blog.
Read :- How to Write Blog Post Creating Writing Techniques
Best Websites to Download Free Blogger Templates
Remember that a Blog is incomplete unless an attractive template and now I'm going to tell you three best free Blogger template sites, which will assist you in every step while creating Blogger template.
Deluxe template is the 1st site where you can get free Blogger templates. There you can also get many other categories of Blogger templates as well.
There are a huge number of Blogger templates about more than 1300 + great themes. Certainly you will find indeed what you want.
Also Read :- Things to Know Before Choosing a Blogger Template
B template is the 2nd site where you can get free Blogger templates.
B Templates site enrich with 1 to 4 columns Blogger templates. Majority of Blogger use this site. Here you can get different styles of template with various colors. It's obvious that you can get your desired template from this site simply.
And now here is the 3rd one site, similarly it will also prove to be a good site for free Blogger templates. This site has also lots of categories of Blogger templates including two, three columns and Wordpress themes. Just get entry and receive what you want.
Check :- Top Ten Social Media Gadget for Your Blogger Blog
So, these are three Blogger sites and surely they will assist you in finding a unique template for Blog. I hope that you will follow instruction as I mentioned above for your better guidance.
So read carefully, (Thanks)