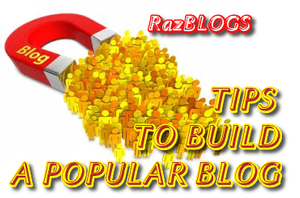 Tips to Build a Popular Blog
Just making a Blog or publishing posts is not enough for making a popular Blog but there is some strategies to build a popular Blog and become more popular and well liked in the Blogging platforms. Few days ago you were notified with Choosing Good Domain Name for Your Blogging niche and we are going to increase the same section of Blogging with another article in which I have some tactics to make popular Blog because its is most important and recommended by ProBloggers the following mentioned tips are very important for your Blog to well liked. So here are the few tricks to build a Popular Blog.
Related to Blogging :-
Tips to Build a Popular Blog
Ways to take you top is not always easy but we have to do our best so check the list below and start practice in your Blogging niche to build a better Blog.
Use of Social Network:-
On this topic I have previously updated so many articles in every SEO and Blogging related articles and that is why I have shared such useful Blog Social Media widgets because social media such as Facebook Twitter Google Plus Linkedin Pinterest are the best platforms to promote your Blog and drive huge traffic to your Blog check the listed below articles for Social Media Connection.
Blog Loading Time
This one is also major issue in the Blogging, I was also facing same problem but after getting such ideas and tips from my Blogger friends I have get such tools and plugins to make my Blog load faster. Check following Articles.
Article Updates
Its good to make your Blog update everyday with new educational and motivational idea with the proper optimization of post or atleast you should update 15 articles or which are related to your Blog in a single month to make your Blog audience engage with your Blog.
Read :- Creative Writing Techniques
Backlinks
This is the great way to achieve a SEO score and increase traffic to your Blog. You can create free backlinks by commenting on other related blogs or there is also paid services to purchase backlinks. It will help you increase PR of your Blog. Check How to Create Free Backlinks.
Guest Posting
Nowadays I have found Guest posting is going to become very popular and its also beneficial for Writers and Bloggers for just single backlink you will get a complete article for your Blog. Start Guest Posting because there are so many writers who can offer your free post for your Blog.
Don't Blogging for Money
Every new Blogger seems Blogging niche a money making machine or finding different ways to make money from Blogging. Its good to think about it but don't Blogging for money Just you should more focused on your Blog automatically your will get so many way to make money from your Blogging niche.
Also Read:-  Make Money with Adsense Without Having Website
Bottom Lines
After working and collecting such useful ideas I have produced the above tips so you should always keep it inside your mind and make popular Blog. If you have any further ideas related to this articles you can share with us by commenting in this posts. Regard