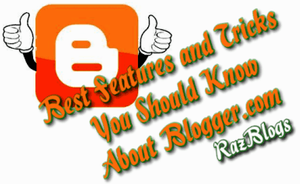 Best Features and Tricks You Should Know About Blogger.com
One of the most valuable and popular platform for every Blogger to start their Blogging career, what I am talking about is Blogger.com. This one is also for my previous series for Blogging from the beginning which is mentioned below after this para so if you are new on this Blog you must check and read below tips for Blogging. I have decided to write about this topic because every new day we found so many updates on every growing platform and that updates and changes give it new layout, functions, themes, way of work a new look so these all make little confuse for beginners. May be all this already shared over the internet and other blogs but due to new updates and changes in their layouts and functions its very difficult to find and follow the instruction already shared on the other blogs. Therefore, I have decided to share a little guide for same tricks and features which is converted and merged in new layout of Blogger.com.
Check Blogging Series :-
Best Features and Tricks You Should Know About Blogger.com
Here I going to tell you some important tricks in arranging your Blog perfectly. Already some where they have been provided by authors but unfortunately some users do not concentrate on such important issues and then it becomes the cause of their various problems. 
These important tricks are given below: 
Change Layout and Hide Pages Widget 
Initially I would like to suggest you that the theme of PAGES should be create with the option of 'don't show'. This means that if any one does not like to show this option, he can choose another one simply. And the method to do possible it as: 
Just go dashboard of Blogger and then click on 'pages'. There u will see an option exist up wards of the pages as 'show pages as'. So rapidly click on it. You will see here some options like top tabs, side links, and don't show, and which will u choose that is 'don't show' option accordingly. 
That is clear! 
Top 10 Social Media Widget for Blogger
How to Add or Change Blog Description 
Your Blog description should be brief as well neat and tidy. Therefore any visitor can understand the main idea/concept of entire Blog. In fact Blog description plays an important role in SEO. And it's obvious that if you are providing better description to your Blog, the best result u will get certainly. 
Dear readers! Remember that the description should be consisting of 500 words maximally. 
The method is given as; 
1st go to Blogger and then click on to dashboard and then click to option of setting. There you will the option of description on the basic part, so just click on 'edit' and just write your description according to your idea. 
And every where, there you are doing any thing new in written scripts, so just do it and at last save all changes. 
Fix Duplicate Meta Description Tag
Hide Your Blog from Search Engines 
If you have something you want to hide from search engines i.e. Google, yahoo or bing etc. so there is also option in the Blogger.com to hide you Blog from search engines or stop spiders to crawl your Blog and stop indexing you Blog or any post in search engines. 
Check this method to hide your Blogger Blog from search engines. 
Go to Blogger Dashboard and then Setting Tab, after that Basic Section and find there is Option for Privacy and follow the image shown below. 
Get Your Blog Faster Indexed in Search Engines
How to Make Blogger Blog Private 
As we have discussed above for stop indexing you Blog also there is another option for making it private from every one or only visible to readers or selected readers. There is three different option for you Blog privacy, check below method for how to make you Blogger Blog Private from every one. 
Go to Blogger Dashboard and then Setting Tab, in the same basic setting section there is another option for permissions. 
How to Add Multiple Admin or Authors for Blogger Blog. 
Sometimes, you being tired from working lonely on your Blog and want to invite your friends to help you and join your Blog as Admin or a Co-Author of your Blog. So its not very big to deal, you don't have to show your email id or password to them because there is an option to in Blogger Blog from which you can invite and ad multiple authors or admins for you Blogger Blog. Check the following steps :- 
Go to Blogger Dashboard and Setting Tab, same as above, go check basic for add authors where you can invite more admins and authors by adding email address. 
Bottom Lines:- 
All the above tricks and features will help you to manage you Blogger Blog easily and experiencing better Blogging with this valuable platform. For any further assistance or query you can ask by reply in this post.