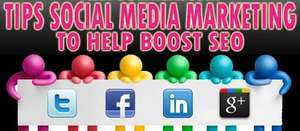 Tips for Social Media Marketing to Boost SEO
The digital marketing world walk can be a confusing one, and you may keep losing exactly how the organization  should end the power of the Internet to make sales and higher profits. It also considers the use of the social media because everyone seems to be online every day.
But how can you use the social media to boost SEO of your company at the same time? Read our tips in which I will share something to help you for boost SEO for social media marketing.
Read : - How to Create Attactive Social Media Profiles
Tips for Social Media Marketing to Boost SEO
Hope you wil most out from it. So lets start reading our tips.
URL setup
Each social media sites that are used should be allowed to create a vanity URL and it will optimize your page or site or for organic search. Use your name and keep each URL in any social media in the same place or similar. And if your wanted a link is already taken or not available, you should add your city at the end of the URL it will also diversify your page. Thus, for example, it may be something like www.facebook.com/tipstricksislandcom instead of www.facebook.com/pages/123245658/8756521
Read:- Social Media Benefits for Website Traffic
About Section should be Completed in All respects
All the social media site About  section  in which you must fill all the information in all respects. Write all the information which describe your business in all concerned fields. Do insert two or three keywords to your business to target audience looking for the types of services and products you offer through your blog.
Use the keyword planner tools to determine what type of keywords you are using on your blog or site and on social media  pages. Find the competition and use the keywords with low low competition which have high search volume.
Organic Followers
While it may be tempting to buy social media followers, Google will actually be able to tell that you did this based upon the quality of your followers. Therefore, even though it's important to have a large enough following on social media to really get your name out there, you want to be patient and build your following naturally and slowly over time.
Its not bad technique to buy social followers,. So, although it is important to have big and enough follower on the social media page to make your name out there, you want to be patient and build your pages naturally and slowly to get organic followers.
Read :-  Best Social Media Plugins for WordPress Bloggers
You can get the organic and genuine followers by posting discussion threads, questions answers, sharing helpful and valuable tips and tricks etc. to engage your followers and build relationships. It will help you to drive traffic to your site.
Bottom Lines
If you find that digital and social media marketing, especially advertising is too much for you to take care of yourself, you can certainly ask for help from employees to start the conversion as it can help you optimize your pages and you site easily.