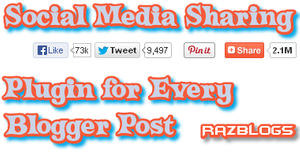 Top Best Social Media Plugins for WordPress Blog
This Running month, I have the second topic for WordPress Blogging platform to extend your knowledge and get most out from WordPress recently I have shared an article for optimization and speeding up WordPress blog and now my topic is for best social media plugins to use in WordPress blog for increasing social signals and make your visitors to share your valuable written contents within their social media friends and send you more visitors.
Read:- Social Media Tricks to Promote Business
Top 9 Best Social Media Plugins for WordPress Blog
There are so many benefits of using the social media plugins and widgets on website/blog page as always we want more exposure after writing some valuable contents and if your blog has the plugins for contents sharing within the social media platforms i.e. facebook, twitter, google+ you will get more visitors and readers for your contents as well as also help you to increase your search engines optimization score. Therefore, If you are using WordPress for blogging and want more exposure and notice on your contents you will like the following list of social media sharing and bookmarking plugins.
This is really awesome and must have plugin for blogging niche as it has floating features means it will be always in eyes of your visitors as well as it has also other features to place it in certain place. Its attraction will force visitors to follow your social media pages and follow your blog through social media.
Very simple and lightweight social media plugin having both sharing and following options for social media ids and pages. This plugin has a good thing i.e. it will not affect on loading speed of your WordPress blog because of its simplicity.
It has seven different top usable social media sharing buttons i.e facebook, twitter, google+, linked in stumbleupon etc. it you want more publicity and exposure of your written contents within these social media websites. You must have installed this plugin in your WordPress blog.
It is another great and powerful sharing and bookmarking tool to get most out from social media websites.
Very attractive social media tool for WordPress Blog. Social Toolbar has features to show your latest tweets from twitter and also have option show all social media profiles or you particular social profile to follow.
Bottom Lines.
As we all blogger need something new, some of us need simple buttons and some are looking for attractive and fancy social media buttons. So the above list have both options so its up to you what are going you to select. Hope you will like and file helpful the above social media plugins for your WordPress blog.