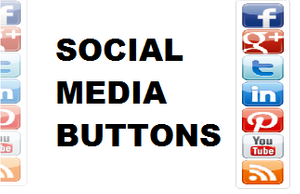 New Attractive Floating Social Media Profile Widget
Presenting a brand new floating social media subscription icons widget for Blogger and Wordpress to make you website and Blog layout look more beautiful. Its so many days I have not posted any update in this Blog, last you have been updated with a SEO related article named How to Use Keywords in Article. This one is also related to SEO because all you will get is about Social Media and I have already discussed the benefits of Social Media for website and Blog. In this widget you can add best and top 6 different social media profile ids in the sidebar with scroll floating and Mouse Hover features. Check Below add this widget in your Blog or website.
Related:-
Attractive Floating Social Media Profile Widget
For saving your time to replace highlighting links I have create a Widget Generater just insert your social media ids as per fields given in the below generator and click on the Generate Button and follow the Given instruction right below the Generator.
Blogger
Go to Blogger DashBoard >> Layout >> Add a Gadget>
Now Select HTML/JavaScript and Insert the Generated Code
Save you template and check out you Blog pages.
Check:-Publish Your Blog Post Automatically on Facebook, Twitter & Other Social Media Sites
Wordpress
Go to Wordpress Blog Dashboard >> Appearance >> Widgets >>
Move Text Widget to Your Sidebar anywhere and paste the Generated code.
Custom Website
Copy the above generated code paste in notepad >>
Then get <style>…… </style> and paste it between the <head>….</head> tag
and the remaining code paste between <body>….</body> tag
 Save you work and check your website.
Read:- Social Media Tricks to Promote Business
Bottom Lines.
Waiting for you feedback for the above useful and attractive social media social profile widgets with hover effect. For any further assistance you can ask by replying in this post. Also Follow us on our Social Media Profile and Subscribe Our Rss feeds. Regards