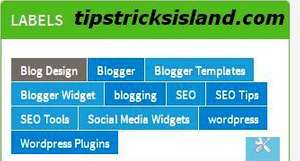 Customizable CSS for Stylish Label Cloud with Hover Effect for Blogger and WordPress
Just few days ago I have shared an article for responsive and inspirational Blogger layout and design and that all for gaining good result from search engines and better response from coming visitors. As I have mentioned my previous post for writing techniques How to Write a Blog Post and said that its necessary your Blog look must be very clean and SEO friendly so that the coming visitors will like to read every post from beginning to end and take more time to explore and surf your Blog. So now we come to the topic what I bring today for my entire visitors it is CSS and eye catching style design Label and Categories for your Wordpress and Blogger Blog. As every Blogger want its Blog look like more beautiful so time by again we are try to all our efforts for making Blog more beautiful and its very good because always we used to stay on the beautiful place. So check below the complete guide for installing this Mouse Hover and Colour Customizable Label Design for Blogger/blogspot or Wordpress. 
Related:- Most Usable CSS3 Design for Bloggers Label
Customizable CSS Stylish Label with Hover Effect for Blogger and Wordpress
I have created a generator for this CSS Label Design for both Blogger and Wordpress for customizing colours as per your own Bogs design and layout colours. Check below.
Now copy the above generated and save it and follow the given below instruction as per your Blog. 
Read:- Read More Button in Blogger Post
Mouse Hover CSS Style Lable Cloud for Blogger 
For installing this CSS design in your Blogger Blog. First of all copy the above css code and go to Blogger dashboard >> Template >> Edit HTML 
Now find the ]]</b:skin> and paste the above css code before/above the ]]</b:skin> . 
Now second step go to your Blogger layout section and edit the label settings as per picture show below 
Save you template and check out the new CSS design on Hover effect labels.
Also Read:- CSS Scroll Bar for Blogger
Mouse Hover CSS Style Category Cloud for WordPress
Now its time for Wordpress. First step is generate you code and copy it from Wordpress section now go the your Wordpress Dashboard >> Appearance >> Editor >> 
Find there is custom.css and add the above code in custom CSS and save your template. 
Now you will find new mouse hover CSS Style Categories.
Read:- Add Custom Four Column Footer in Blogger
Bottom Lines 
If your Blog has already installed any CSS style for your Blog Label and Categories then you have to customize the above. Hope you will like my work. Waiting for your feedback and for any further assistance you can ask by replying in this post. Feel free to ask any thing related to this post. Regards..