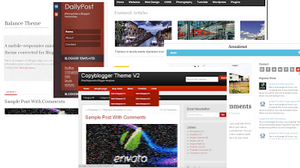 Things to Know before Choose a Blogger Template
If you have read my previous articles for blogging, I have already wrote about Blogger and it's advantages but also here as per topic I have mentioned something that Blogger is the most valuable and usable platform to start your new Blogging career. In this article I will suggest some tips to know before choosing your new Blogger template.
Before choosing any Blogger template, it's necessary to consider such important features that can be develop an effective and featured Blogger template. Might it would be difficult a little because here is various Blogger templates arranged with different features, social sharing widgets like Facebook, twitter etc. Merely you do have not to concentrate on the style of template that is showing externally but   the most important thing is that to enrich your template with such things like load time, SEO, browser antivirus, and much more, so here are some tips to get an effective Blogger template and eternally get rid from any type of problem that could be face in future.
Read :- SEO Freindly Blogger Templates
1- TAKE A GOOD LOOK AND REVIEW.
The first and the main thing for a template is its best look by capitalize. It means that a template should be neat and clean and quite far from any type of roughness. At the same time has the ability to read easily without any frustration and confusion. You should keep an eye towards the look of template but the fonts are used or not.
2- EASY AND ATTRACTIVE NAVIGATION.
And now it's time to have a look on navigation menus and page navigation. Page navigation assists in navigation from page to page. Numbered page navigation is much better than general posts links. Navigation menu is an important thing that must be attractive, neat and has an easy readability. Make certain that the over all menus aren't showing any drop down feature that can be effect on the first eye beauty of navigation menu.
3- SEO OPTIMIZED.
SEO optimization is not necessary as much as basic SEO stuff is. Isn't necessary to be a SEO expert, just you have to take a good look on the basics with the help of Inspect Element feature in Chrome. The most important thing is to use perfectly heading tags.
Check :- What is On-Page Off-Page SEO and How to Optimize
4- SELECT LATEST FEATURES AND TECHNOLOGY.
In the whole organization you have to be select latest features and do use the technology of css3 and html5 features. And forget all old featured templates that can suffer your template look. It will be best to keep in touch with pleasant feedbacks of the readers.
5- A PROMINENT SPACE FOR ADVERTISING.
Try to follow such templates which are advertising optimized and can assist you in getting right way. It's important to provide a prominent space to displaying ads showing from sidebar or wherever they exist.
6- PAGE LODING TIME.
First of all you have to stop infinite imaging that causes page loading time. And the other thing that you have to avoid is JavaScript which is making suffer to the Blog performance. It just requires extra time and also causes the too much wait while start-up. So try to do limited use of java script and extra imaging.
Also read :- Tips to Reduce Loading Time of Blog
7- CROSS BROWSER COMPATIBILITY
Here I am going to mention some important browsers for checking the compatibility like Firefox, Chrome, Safari and Internet Explorer. The major reason of mentioning above browsers is that every browser can not support any template. It's very important to check compatibility by using various services and save your Blog from future regret. Especially those peoples who ignore such important feature and directly go on the out look that what they are seeing currently but don't try to explore such important thing.
8- HAVE A LOOK ON REACTIONS.
Now look and feel that the design you have made for responsiveness has must be enough width that can be adjust in any device especially mobile screen. Here is another method to check reaction and that happens by re-sizing your browsers in various directions simply. Reaction web design is very important and has a great importance in nowadays. In the case of creating some problem you can consult to an author as well.
9- ASK QUESTIONS ABOUT TEMPLATE MEEKLY.
It's not necessary that you can solve every problem concern to your template easily. You have to need some experts to assist you or for your better guidance Off and on. It means that if you are facing any type of hindrances during the creation of template, you can consult to the author as they know much better and can solve our problems easily. Follow such author who can respond you currently and also you can follow author's Blog to make easy your way. 
10- COMFORTABLE AND EASY TO MAKE USE OF.
Choose template with broad CSS and HTML in purpose to prominent comments and can read easily. If here is any compression between CSS and HTML so it would be difficult to read and can hide the soberness of Blogger template.
Similar Post:- Five Free and Best HTML Editors
Bottom Lines
I hope that you've been clearly read above all tips to choose a better template. And also after following these you will certainly not face any type of problem that can cause from less featured template. So always take a good look and review while choosing Blogger template. And think that is it perfect match for your concerns?