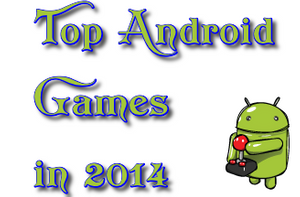 Top 5 Android Game Apps for 2014
In this year so many android games and applications are getting so popular and also some are also on the way to be the top listed as a part of  technology. The top 5 android game apps for 2014 as following:-
Read:- Best Tested Android Security Apps
Top 5 Android Game Apps for 2014
1. Flappy Bird
Flappy Bird has made by Dong Nguyen. This has found as one of the popular game in this year because of its simplicity. Those player who never played this before it might be also so charming game for them. A new player can also start this game with a great interest and after some time he can realize that it is really so exiting to pass such an enjoyable moment while playing it. The goal of this game is to move through the pips. Just need to control the birds. Flappy Bird  can be downloaded by anyone as free. This is found as a fantastic game by us.
2. Modern Combat 4: Zero Hour
Modern Combat 4: Zero Hour has released in the market recently as the new chapter of Modern Combat. It is another game as getting so popular. Its graphics quality is nice. To play this game easily you need to know the details about the story. You might also need to play the same event in the perspectives of different teams and to get the success just specify your enemies carefully that where they coming from or your companions die so easily. You can keep yourselves in an enjoyable moment while playing it.
3. Farm Heroes Saga
The setting of Farm Heroes Saga is different from the first games that has released by King. Only the concept is same. You need to maintain positive activity so that you can reach the quota per level.  You can also find some similarity between Farm Heroes Saga and Candy Crush Saga and that is to  match some of the same type in horizontal and vertical combinations. In this game your progress depends on how better you can perform with facing the new kind of obstacles with pieces. The only new thing in this game is you need to fight an evil raccoon in the boss stage.
4. Squishy Birds
Squishy Birds is a another comfortable game for any beginner. If you want to be a better performer while playing this game, you just need to squish the birds for so longer time as you can do it. After sometimes it might be difficult for you to kill the bigger birds. But it is a more easier game  then Flappy Birds and also easy to collect so many points while playing it. So It might be a charming game for anyone as it is so easy to collect hundreds of points without a sweat in Squishy Birds.
5. Marvel Run Jump Smash
The Marvel Run Jump Smash is the game of battle with super villains and their henchmen as the Marvel heroes. In this game you need to unlock the Marvel heroes and beat the enemies as blocking your way. A fast internet connection must need for you so that you can  play this game with comfortably. It's  simple controls can help you to make it easier. The moments of playing this game is so enjoyable for any gamer. You need to arrange the coins and enemies perfectly so that you can reach the higher levels. You just need to pay a little to play this game.