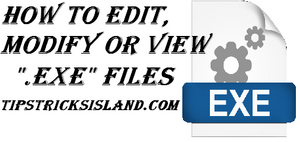 View Edit or Modify EXE Application Files
In the Series of Computer tips and tricksI have a wonderful post for Exe Application files. About EXE file I don't have to write anything because this is the file for execution any software or application in the windows platforms. But I have taken few lines from Wikipedia for clear the purpose of Exe files.
".exe is a common filename extension denoting an executable file (a program) in the DOS, OpenVMS, Microsoft Windows, Symbian, and OS/2 operating systems." (Web definition from Wikipedia)
Sometime while you working on any program or playing any game it come into your mind "may I edit this exe file and modify such things" For this I am going to inform my entire visitors about a great program from which we can easily edit modify and view EXE application files resources. 
Computer Tips
How to View Edit or Modify EXE Application Files
If you want to make any modification in the exe files you need a program named Resource Hacker.
Resource Hacker is very powerful small and completely freeware and come in very small size from which we can easily modify, view or edit Windows Executable (Exe Application) files. This small tool works in almost every windows edition like Windows NT, 98, Vista Seven XP. For more information Visit Their Official Site and also download this useful program from its official website it completely free.  
In this program you can rename exe file, change icons, edit .dll files, cpl files or you are expert can easily modify exe application with this useful tool because when you run this tool it will show you complete resources of exe files. Mean you if you want to edit your windows files such as welcome screen boot screen or any windows you can easily edit with tool.
Another Related Posts
Bottom Lines
This tutorial is just for education purpose about how we can edit modify view or change the resources of executable application files with this tool, for any further assistance you can ask by reply in this post Follow Our social media network for get every update from http://tipstricksisland.com on your wall also subscribe Our RSS feed.