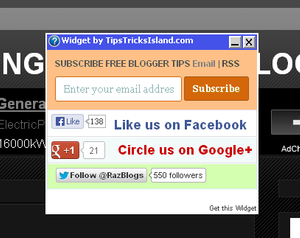 Popup Email Subscription Box with Facebook Twitter Google Plus Blogger Widget
Another JQuery Widget with beautiful look, as before I have also share another Email Subscription Widget having Wordpress style with Pinterest Following button for sidebar but today I bring in this post another beautiful widget with JQuery features. In this widget visitors can subscribe you blog's daily updates via RSS, Like You facebook Fan Page, Follow Twitter ID, Google Plus One for your website and also visitors can follow you on Google Plus as per you choice whethere its Your ID or Google Plus Page. So here below complete instructions for how to Install this Beautiful Widget to Blogger.
You may also like to read this>> 
How to Install Popup Email Subscription Box with Facebook Twitter & Google Plus Widget
Before installing this widget you must have to installed JQuery Script into your blogger because this is one is JQuery Based widget so you have to install this latest JQuery Code into your blogger. If you have already installed JQuery Plugin you can change with this one or leave this step just install widget from below widget generator.
Copy JQuery Plugin and Paste inside You Blogger before/above the closing </head> tag
<script type="text/javascript" src="http://ajax.googleapis.com/ajax/libs/jquery/1.8.2/jquery.js"></script> 
And now follow the instructions as desired by widget Generator
After filling the concerned fields Click on the Generate Button and  copy the Generated Code and Paste that in HTML/JavaScript Gadget in you Blogger Layout Section.
Another Recommendations 
Now Save your blogger template and Checkout your blog homepage. You will there New Popup Email Subscription Widget with Facebook Like Box, Twitter Follow Button with Google Plus one and Follow.
Hope you will this widget. For any further assistance you can ask by replying in this post I will give you feedback as soon as possible and also like our social media community and Subscribe for stay connected with New Tips and Tricks.