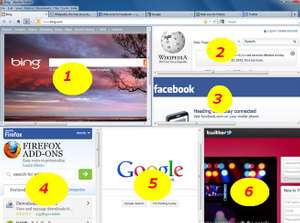 Browse Multi WebPages in a Single Tab for Firefox & Google Chrome
I was wondering before to how can I browse multi webpages in a single tab of internet browsers while working on my Blog and another side for some entertainment. Because it make me feel relax while working on Blog as we Bloggers everytime using our mind and do all efforts to get some thing new for today's post. So finally today I have got my best and going to share an extension for Google Chrome and Mozilla Firefox Addon for multi webpages browsing in a single browser tab means in one time you can browse more than one pages in a single tab. If you are playing online game one side and chatting with any of your friend another tab, you don't have to jump between tabs. Just check the given below step and get the solution for browsing multi webpages in single tab for Mozilla Firefox and Google Chrome browser. After installation you can split the browser windows into 2 or more than 2 sections to browse more webpages in single tab.
Related :- How to Integrate Google Analytic with Blogger
Multi Tabs for Mozilla Firefox and Google Chrome Browser
The advantages of using multi tab addon in browser are, you can browse more than 2 webpages in single window, use multi social media website on single page, Blogger can write there post and communicate with their visitors from single page, watch videos and chatting on social media sites in single webpages etc, all the mentioned advantages will help you to do and finish your work in small time by giving you this opportunity of multi-WebPages in single window. Check out below how to install multi tab in Mozilla Firefox and Google Chrome Browser.
Check:- Tricks for CSE (Google Custom Search Engines )
Multi Webpage Addon For Mozilla Firefox Tab
It has been observed that Mozilla Firefox is the Browser which is the most used in all over the world so I think first of all its necessary to share the above trick for Mozilla Firefox Browser. I the features and advantages fo the Multi Tabs in a window for Mozilla Firefox I have already mentioned above. This will help you to browse 8 different webpages in a single Mozilla Firefox tab for downloading this useful addon click here to visit the addon library and download this useful addon.
Also Read:- Tips for Google Drive
Multi Webpage Addon For Google Chrome Tab
Another world's biggest browser by Google also named Google Chrome, which is most used in all over the world and having so many lovers. The same trick which I have introduced above for Mozilla Firefox also available for Google Chrome means the Chrome users also browse multi webpages in single tab. Click here to visit the extension page and download for availability of using multi webpages in single tab in Google Chrome Browser.
Read :- Google+ Follower Widget to Raise Blog Audience
Bottom Lines
Hope the above information will help and experience you better browsing with Mozilla Firefox and Google Chrome Browsers. Now its time to browse multi webpages in just a single tab of any one of the above mentioned browser by installing this Addon and Extension. Waiting for your positive feedback and also don't forget to like and follow our social media community for get latest tips and tricks from RAZBlogs. Regards.