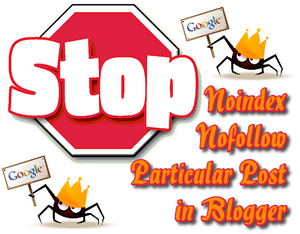 How to Noindex Nofollow Particular Post in Blogger (Blogspot)
All my recent publications over here are the questions which were asked by some newbie and blogspot bloggers and also help me to increase the list of tutorials and guide at TipsTricksIsland. Today my topic is also some tips and tricks about blogspot blog and I will tell you how to Noindex and Nofollow any particular single post and prevent search engines from indexing.
Read: Things to Know before Choose a Blogger Template
Why Noindex Nofollow?
After lot of bad SEO techniques, the major search engines have changed their policies and algorithm to give the better result to searchers. If you have used or applied any bad SEO technique or your post is not giving you proper result or it not comply with Search Engine optimization factors, you need to noindex that specific article and resubmit Sitemap in the webmaster tools to save your blog from any penalty or hit due to new Google updates (Panda , Penguin).
How to Noindex Nofollow Particular Post in Blogger (Blogspot)
It is very easy method but most of us don't know more about it. So I will tell you step by step guide for How to noindex any particular post. Go to Your Blogger Dashboard >> Settings >> Search Preferences >> Enable Robots Header Tag >> Enable as per screenshot attached below.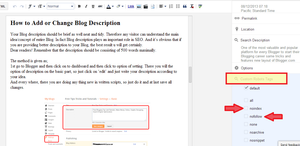 You have complete the step one for enable header tag now we have to move another step which is noindex specific post by apply Nofollow, Noindex tag from Post editor Option
Edit any post in blogger which should be noindex due to bad SEO facts and Go to Post Setting Option and check the Noindex Nofollow from Custom Robots Header Tag. Also see the given below screenshot.
You have done. But in last you must resubmit Sitemap in webmaster tools to update your sitemap for search engines crawlers and tell them what changes have been done.
Read:- Social Media Mistakes by New Bloggers
Bottom Lines
The main purpose of sharing this article is because few days ago I have read over some Top SEO blog about noindex you bad quality articles to prevent and safe your blog from any penalty after the new Google updates i.e Panda and Penguin. So same I did and in few days its show me result and now blog traffic increase 200% from January 2014.