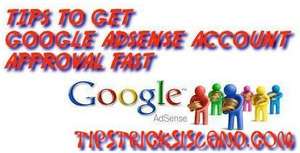 Best Tips to Get Google Adsense Approval Fast
The most excellent and ever best Publishing Network on the internet and also the dream for every new Blogger. This is the advertising network from Google from which million of the Blogger and webmaster making money online. Before I have discussed a topic upon Make Money Online through free Blogging platforms and there is also I have mentioned about Google Adsense, due to connection with topic I have not written more about it there so today I have decided to write for Google Adsense and share some best ideas and brilliant tips and tricks for get the Google Adsense Approval Fast. If we go in past about 4 or 5 years there was no any single problem to get Google Adsense account because few my friends get Google Adsense Account Approvedthrough Google Sites in few days but because of misuse Google has make it strict in its approval and its usage. So we should come to the topic in which I will guide you the greatest tips for getting Google Adsense approval fast.
Related:-
How to Get Google Adsense Account Approval Fast
If you have applied for Google Adsense and may be its refused due to such a reason. So you don't have to make yourself tens because in this article I will suggest you such great tricks for Google Adsense Approval. But keep in mind all the tricks and tips for you every Blog post and then you will get fast approved from Google Adsense. As I have read in such forums that Google will not accept and approve before the site age become 6 month but the what I am using I have got the Adsense account in very short time so you must read complete the follow tips and get the Adsense approval very fast.
 Read :-Best Practice to Promote Your Blog/Website
Write SEO Friendly Post
Time and again you were always advised by every single Blogger also by me in the SEO articles for writing Tips in which you are suggested to always provide your visitor unique contents having quality material. Few days ago I have shared a complete article for how to Write Good Blog Post and there I have shared such a great writing techniques and shared what you have to do before writing any article as research keywords, proper layout for your article, related media files, Grammar and spellings etc. all these tips will help you to get good traffic through search engines and your article will become SEO friendly also help you to get Google Adsense account Approval fast.
Traffic Statistics
I think this the main topic which every advertising company needs as if we want a thing to be more viewed then we must put it in someplace where we find easily and it will get good attention. So same here all the ads publishing companies needs more traffic to get attention and concentration on their ads which are placed on your Blog or website. So check the following few article for increasing the number of traffic and get the chance to get Google Adsense account approval.
Don't Apply or Use any Blackhat or similar techniques
I think you have read almost 500 words about the Adsense approval article but still below 500 more words. If you are novice or unaware from Blackhat or its techniques then its good for your Blog but if you are using any blackhat technique or something similar to this, stop applying that useless methods because it will affect your closeness to Google Adsense account. What I have notice in few years what Google Don't like is the all techniques of Blackhat so avoid all the Blackhat methods and come again close to Google Adsense account approval.
Read:-Tips to Reduce Loading Time of Blog
Remove other Advertising Program
If you are using any other advertising company if it is able to work with Google Adsense then leave it on your site if not remove it before applying for Adsense account as you have seen browsing internet some website having popup ads but you will not find there Adsense account because I think Adsense don't like their ads publisher have popup ads. If you want to use any other advert company read FAQ before applying on your site or Blog that is it capable to show ads with Google Adsense or not and if not then before applying for Google Adsense account you must remove that ads  from your website or Blog for getting approval.
 Check:-Publish Your Blog Post Automatically on Facebook, Twitter & Other Social Media Sites
Update Your Blog Every Day
This is the best trick for SEO for your Blog also work and help you in get Google Adsense approval fast as I have mentioned above to always write quality and unique contents and update it on your Blog everyday for increasing its global rank. Get the most talked ideas and best topics for you every new post so Google may approve your Adsense account fast.
Also Read:- Complete SEO for Blog
Submit Sitemap to Search Engines.
After the applying all the above tricks means writing removing and publishing now its time to tell search engines what you have write for internet users. Sitemap is the way to tell the contents of your website so that the search engines robots and crawlers examine your post that is it unique contents or its duplicate shared if you have quality material shared on your Blog you will get news visitors through search engines and come more close to get the approval for Google Adsense accont. Check this How to Submit Sitemap
Bottom Lines
Like always, in the bottom I will share some suggestions for the above written words about fast approval for Google Adsense account. All the above tips are shared for newbie, novice and beginners who are suffered for being applied for getting approval for Google Adsense accountbut always Google refused to giving them Google Adsense account. Now apply the above tips and tricks for your Blog and website in your every new post and get the result in 2 months. If you want to get next update in your inbox then don't forget to follow RSS Feeds or you want to get the next update on your wall follow the social media pages below the Author Box.  Regards.